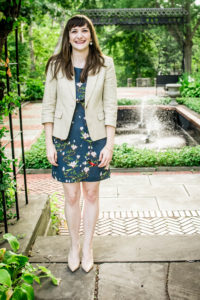 Nicole Pettenati has been the Program Manager for YNPNdc's Mentoring Program since 2019. The Mentoring Program matches early career professionals with more seasoned nonprofit professionals for one-on-one mentoring relationships and also provides professional development and networking opportunities. Nicole describes her role as "basically to make sure every step of the [mentoring] process happens, working with the rest of the program team on everything from designing the applications, to matching the pairs, to planning each month's events." Get to know Nicole through her answers to a few questions below!
 Why did you join YNPNdc?
I was starting to think about a career shift a few years ago — from a research-focused role to 'something else,' and didn't know quite what that something else should be. I had an informational interview with the executive director of a local nonprofit who suggested I join YNPNdc to get to know other professionals and to start finding my place in the nonprofit world. 
What is your favorite memory as a YNPNdc volunteer?
The absolute best is when someone writes to say that they've had a positive experience in the program, or that they've been able to hit a career goal because of something they learned from their mentor or from one of our events. 
Why would you suggest someone volunteer with YNPNdc?
It's a great way to broaden your network and also to develop a skill set you might not have the chance to cultivate in your day-to-day. In my day jobs, I hadn't quite had that opportunity to manage a team yet, and volunteering with YNPNdc gave me the opportunity to see an entire program through, including the hiring of the team and ensuring they were supported and felt empowered to do their jobs, which now I can translate back to my regular work.