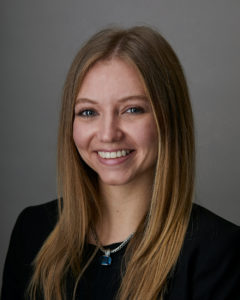 Hadley Ashford joined YNPNdc in 2018 and serves as an On-Site Events Volunteer. She began her role in the virtual environment and has supported planning and managing YNPNdc's events such as Happy Hours and Inner Circles. She also has been involved in the DEI Committee, which began in 2021. When she isn't volunteering, Hadley is working as a Project Specialist at the Patient-Centered Outcomes Research Institute in their Operations department or playing on a recreational softball team. We asked Hadley about her experience with YNPNdc — get to know her through her answers below and be sure to say hello at our next event!
Why did you join YNPNdc?
I was specifically drawn to YNPNdc's Inner Circles events as an alternative to traditional networking, which I always found to be a bit awkward for me. The Inner Circles program provides a time for structured discussions with a smaller group, which helped me get to know other like-minded young professionals in a comfortable setting!
What do you feel like your biggest accomplishment in the role was?

I have really enjoyed being part of the DEI Committee and was able to stretch my writing muscles by crafting a blog post around our work. If you haven't seen it yet, you can check it out here!
What is your favorite memory as a YNPNdc volunteer?

It would have to be the June Inner Circles event, which was a skill-building improv workshop. As a former theater nerd, I loved playing all the improv games and learning how to apply them to my work.
Why would you suggest someone volunteer with YNPNdc?
The people and opportunities are great! Volunteers are encouraged to get involved in areas that will expand their skillsets and the work feels meaningful, while not being overwhelming. The group also does a great job of respecting everyone's different capacity to serve.